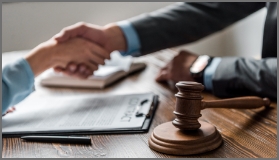 Civil litigation is the process of resolving civil matters through the court of law. The Civil Claims process begins when one party chooses to sue another party. Once a Civil Claim is filed the action goes through many steps, and it may ultimately come before a judge for a legal decision
1
.
We provide representation for civil litigation at both the Provincial Court and the Court of Queen's Bench of Alberta. The Civil Division of Provincial Court deals with most claims up to $50,000. Claims must be filed in the Court of Queen's Bench if they exceed $50,000 or involve matters that cannot be heard in Provincial Court.
PDS Law understands that legal battles can be puzzling. We are dedicated to facilitating a timely resolution to your civil law matter.
Civil litigation legal services
1 Provincial Court of Alberta, Areas of Law: Civil (2022), online: Alberta Courts <albertacourts.ca/pc/areas-of-law/civil>.
Construction litigation and builder's liens
Commercial Real Estate Disputes
Wills and estates litigation
Personal Injury
Commercial lease matters
Debt Recovery
Contractual Disputes
Residential and tenancy disputes
Feel free to give us a call with any questions you might have; we will not charge you a fee unless we move forward with your matter.